Our Junior School focus is on breaking the code of language. The program is centered on the development of reading, writing, spelling, vocabulary and numeracy. The learning environment offers small class sizes of ten students or less.

Academics
Junior students stay with their class throughout the school day, for a core curriculum of language arts, maths, science, social studies and physical education. Each class has a foundation of direct instruction, frequent reassurance and explicit feedback. All teachers have specific training in multisensory teaching techniques.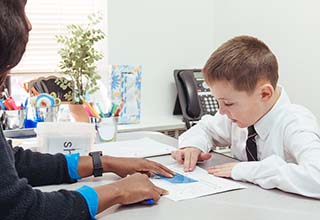 Daily One-to-One Tutoring
Each student works intensively with an Orton-Gillingham certified language specialist on a program specifically designed to meet his or her unique needs in the areas of reading, spelling, writing, handwriting, and executive functioning.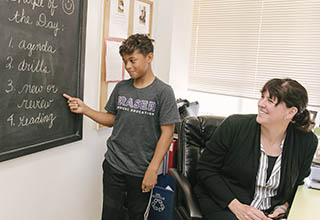 Executive Function Curriculum
Our school-wide Executive Function Curriculum helps students build processes in key areas such as goal setting, planning, prioritizing, organizing, shifting, flexibility, self-monitoring and manipulating information in working memory.
Educational Technology
Our students use iPads and Chromebooks to build digital skills, access information, and learn to communicate and collaborate. These tools help provide a multi-sensory experience, enhance skills, and buffer areas where students may need help.

Fine Arts
Many students with dyslexia and other language-based learning differences are gifted in non-academic areas. We provide our students with the opportunity to develop their personal strengths.
We offer our junior students the chance to discover their creative side by introducing them to a diverse selection of fine arts. Students are given the opportunity to express themselves through art, music and drama. Digital literacy is another component of our Junior School, which prepare students for a technological world.

Athletics
Fraser Academy offers a range of co-curricular athletic opportunities for students outside of the regular physical education and junior intramural programs. We encourage all students to participate in the athletics program as studies show that regular physical activity helps improve physical, emotional, and psychological health of students. Our athletics program emphasizes participation and we coach to meet students where they are at.
We encourage all students in the junior school to get involved in at least one athletic opportunity each term. Our teams include boys soccer, girls volleyball, cross country, track & field, basketball, wrestling, and skating.

Character Education
While academics are an essential component in students' success, extensive research shows that emotional and social skills are far better predictors of future successes.
Our Character Education program helps students become more self-aware and socially conscious. It teaches the importance of managing emotions, developing and maintaining friendships, and using responsible decision-making skills. It also empowers students to trust their abilities and develop healthy life habits in areas of observation, evaluation, and learning.
We appreciate the many ways Fraser Academy makes a difference for our son. He's evolving so positively in so many wonderful ways. We continue hearing how the school has made a marked difference in the lives of so many students. The added benefit for us parents is peace of mind.
Katherine L, Parent