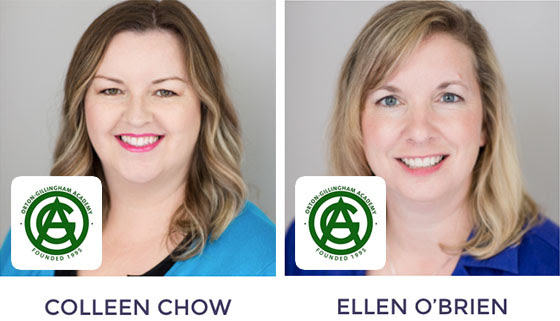 Announcing Two Fraser Academy Orton-Gillingham Fellows!
We are pleased to announce that two FA faculty members, Ms. Colleen Chow and Ms. Ellen O'Brien, have obtained the certification of Fellow from the Academy of Orton-Gillingham Practitioners and Educators.
Ms. Chow and Ms. O'Brien are joining an elite group of only 144 Fellows globally! There are only five other Fellows across Canada.
These Fellowships represent 10 years and thousands of hours of training and mentorship, including:
Master's Degree prior to application.
270+ hours of coursework and conferences.
600+ hours of supervised practicum over a minimum of six years.
Teaching multiple Associate and Certified Training Courses over a minimum of a three year-period.
Ms. Chow and Ms. O'Brien have also trained hundreds of educators in Orton-Gillingham language instruction, working alongside Fellows from the U.S., Karen Leopold and Lynn Lamping. We would like to extend our appreciation to Karen and Lynn for their mentorship.
As Fellows, Ms. Chow and Ms. O'Brien will continue to train, supervise, and uphold excellence in the professional practice of the Orton-Gillingham Approach. This is a big step in extending Fraser Academy's scope of contribution towards raising the bar of instructor practice throughout Canada.
We join the Orton-Gillingham Academy in commending Ms. Chow and Ms. O'Brien for their professional commitment and achievement in promoting excellence in the practice of Orton-Gillingham language instruction. We are proud to have this calibre of expertise at Fraser Academy. Congratulations to you both!
Want to learn more about our Orton-Gillingham Instructor Training?